Recently I noticed a social media comment left on a photo about how modeling and photography are often misunderstood as easy professions. While I'm no model, nor do I play one on TV, but I'm known to photograph a model or two and can relate to that perception as I'm often told, "It must be nice being a photographer photographing those beautiful models, such an easy job."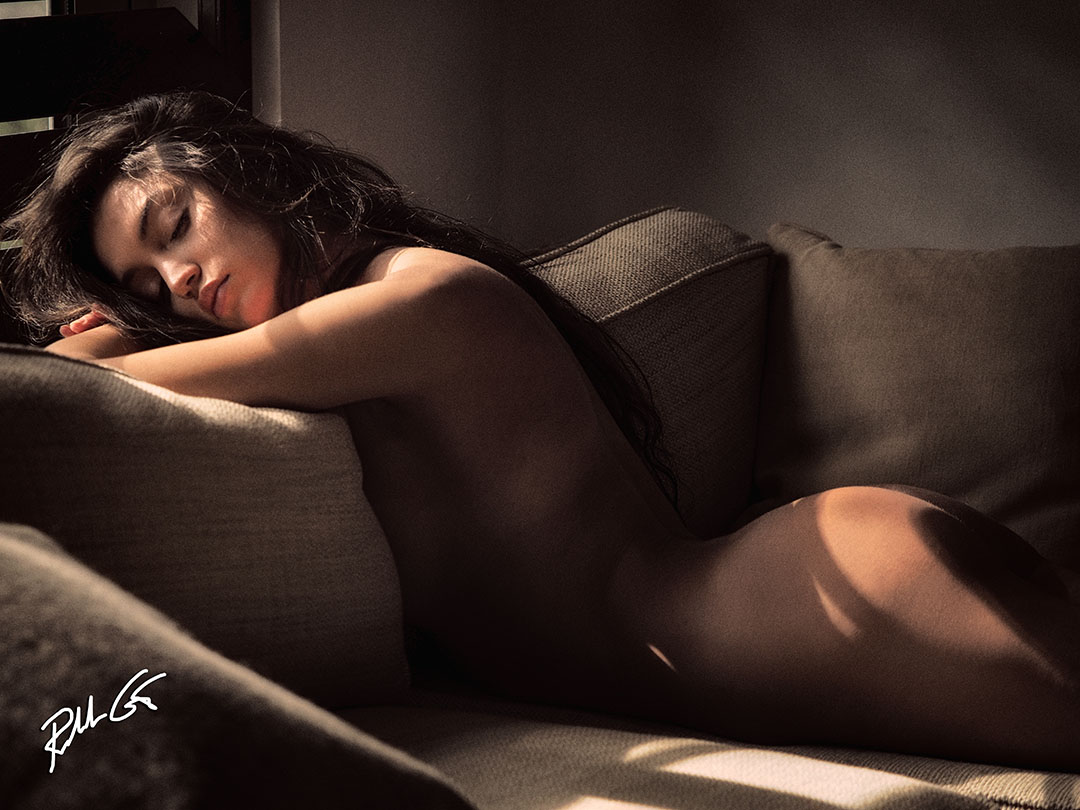 Dilara makes modeling look easy in this photo, but being a model means you work for the photograph too.
Well first, I want to explain, neither profession is as easy as it sounds. Both take years of experience to even come close to being good at what you do, not to mention, all the competition and ego's out there can bring stress to both professions. It's a common misperception that models and photographers just stand there and barely break a sweat. So, I decided to explain just how mythical these professions really are to those that don't have a clue, and to help, I'll use a little of my military jargon (in italics) to help accomplish my mission.
I'll however start with the good points. Sure, both are fun professions that can get the creative juices flowing and both professions allow you to meet new people and make new friends, but they do involve a little bit of pride and the self-esteem checks do bring some reassurance at times. However, modeling and photography also bring rejection, hard work, competitiveness, stalkers, trolls, jealousy, and sometimes, if we're not getting up early in the morning for the perfect light, we're baking in the sun or freezing in the cold. Easy peasy right?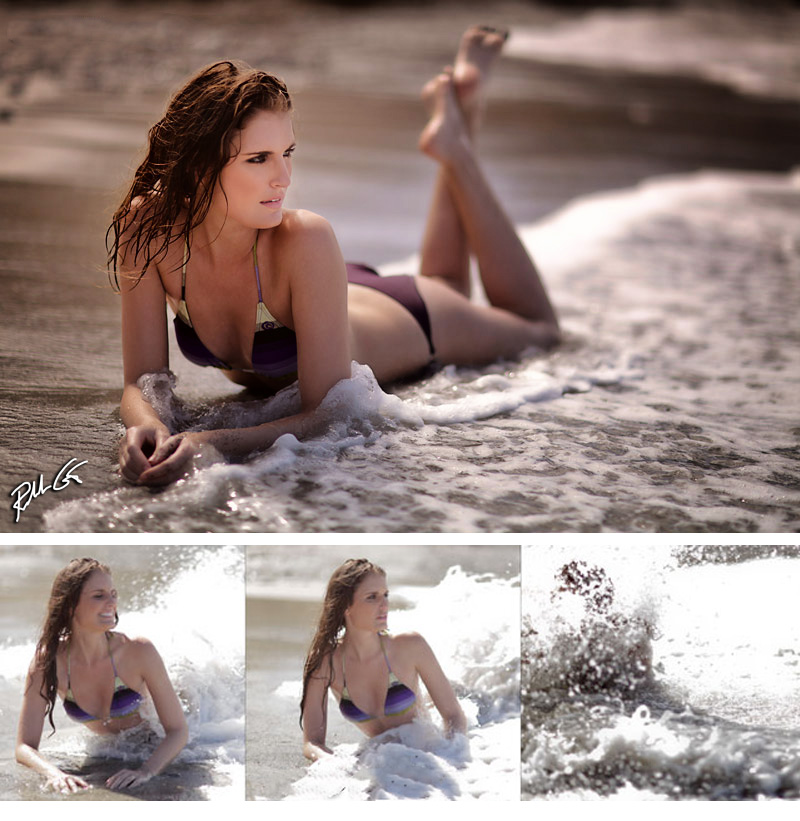 So, as you can see, Brittany got hit pretty hard by salty water from the ocean during her shoot, many times. Easy peasy right?
Yes, modeling and photography involve work and while we might not be carrying a rucksack or an M16 weapon, we deal with busy airports, duffle bags of gear, time zone changes, hotel beds, fast food, long, early, and late hours, climate changes, late or missed meals, and often ate up people that try and tell us what to do. In a nutshell, mental exhaustion causes physical exhaustion too, so at the end of the day, when we're exhausted, it comes from mental and physical acerbations.
I served in the U.S. Army, active-duty, as a soldier (Staff Sgt., noncommissioned officer) for over eight years and when the old Army television commercials said, "We do more by nine in the morning than most people do in an entire day," believe me, I experienced the truth in those commercials. Same with modeling and photography and as an example, it's not uncommon for my models to start make-up at 3:45 a.m. for a sunrise (with equipment ready and in place before the sun comes up) shoot. Obviously, this isn't like tactical preparedness for combat readiness, though sometimes it feels like an active drop zone, especially carrying sand bags for C-stands.
In fact, great models and photographers will naturally follow the "buddy system" the Army taught me, though not from the stand point of protecting your buddy's life in combat, but more in helping each other out, sort of a professional camaraderie. It's all about respect for one another as the business of photography and modeling is big enough to go around for everyone, but small enough for competitiveness too, and there is a chain of command. With my platoon, I'll delegate authority to the squad leaders, but ultimately, I'm the person in charge until the general (client) shows up and I'm controlled by civilian oversight (the customer and the intended audience) too.
While my models and I might not be subject to a commander's inspection, we do get our "gear" ready to go before a shoot—obviously models' gear is a bit different than that of a photographer, but try curling or straightening your hair before 4:00 a.m., which means you're in bed before the local news. While there's no morning reveille or evening retreat, we still believe in our core values and though we might not do a road march, we often hike or climb to crazy and dangerous locations.
So, while it has its "fun," it has its "pay your dues" requirements too, especially if you want to excel amongst your peers. Though there isn't any promotion ceremony, my unit still answers to someone as powerful as a first sergeant or sergeant major. Our audience, which ultimately dictates whether we succeed or fail, is the same people our military forces protect.
So, before anyone tells a model or photographer, "It must be easy to do what you do," remember, we pay our dues, with mental and sometimes physical exhaustion, as well as stress, physical fitness (especially for models), and the negativity from the public as well as the positive. It's not, be all you can be, it's be what others can't be, though many would love to trade places because of false perceptions.
I've seen dead bodies in Africa, while in the military, during the Rwanda refugee crisis and I've bricked houses as a young kid, as well as wash cars plus cut lawns. I was a diesel field mechanic in the South Texas oil patch for Caterpillar too, turning wrenches way before I photographed beautiful models. I've paid my dues to get where I am, and quite frankly, my military training made me a better photographer and person than any civilian job could ever do. I'm sure some of my colleagues have similar war stories too.
Watch these photos that expose the difficulty at times when it comes to modeling on location. Rebecca did her best to avoid swallowing any salt water during this shoot, and while keeping her eyes open for the camera, she did her best to keep salt water out of her eyes.
I've sweat my buns off and felt my fingers freeze on location photo shoots just like I did during Army Training and Evaluation Program (ARTEP) exercises in Grafenwöhr and Hohenfels, Germany. As photographers, our work isn't always indoors, in fact, my best work is done in places that often resemble theaters of operation and we often meet daily for an after-action report (AAR) in an assembly area (AA).
Plus, much like the military, we use acronyms, like ISO (film speed reference, International Standards Organization), MUA (Make-up Artist), AWB (Automatic White Balance), RGB (Red, Green Blue), CMYK (Cyan, Magenta, Yellow and Black), DOF (Depth Of Field), DPI (Dots Per Inch) and many others. So, as you can see, like the military, we have our own lingo too, and even sometimes have to breach obstacles to gain ground.
Models and photographers, especially the strack troopers, know their METL (Mission Essential Task List) and many of us, like many military troops, are squared away. Just like my brethren military service members, many models and plenty of photographers do more before 9:00 a.m. than most people will do in an entire day. It's all about survival and most important, discipline, as defined by my former boss, General George A. Joulwan, "Doing what you're supposed to be doing when no one is watching."
So, cut me some slack before you judge what I, or my models do for a living. While I'm not a soldier anymore, nor do I play one on TV, I know what it's like to freeze, sweat, be shot at, and wonder if I'd ever come home alive. Yes, I've gone from aiming a gun barrel to pointing a lens barrel, but my models and I stand tall with pride and are patriotic citizens that zero in on our objectives.
I might add, some of the results by photographers have led to military actions, such as the 1994 Pulitzer Prize winning photo, taken by the late Kevin Carter, of a vulture sitting to the left of a starving Sudanese child—many say this photo led to American military involvement. President George Bush "specifically cited the 'shocking images' of starvation and violence from that collapsed nation when he announced a humanitarian intervention." Even well published models are involved in charities and humanitarian efforts too, so please, don't ever say our professions are that easy, it's work too.
---
(Visited 1,479 times, 1 visits today)