The Sunbounce Photography Light Enhancing FLASH-BRACKET
When Photographers Need Flash Diffused and Directed
NEW strong flash shoe made from aluminum and optional video adapter with 5/8th pin!
The FLASH-BRACKET
NEW strong flash Shoe made from aluminum and optional video adapter with 5/8th pin
The FLASH-BRACKET is a valuable accessory for the SUNBOUNCE Photography Light Enhancing System. Never before has it been so easy to build a large and mobile panel light using SUNBOUNCE Photography Light Enhancing System components. A simple SUNBOUNCE FLASH-BRACKET, the length of which is adjustable, functions as a connection between the SUN-BOUNCER tube system and any portable flash or LED light. The SUNBOUNCE FLASH-BRACKET is available with normal, insulated flash shoe. The 5/8th spigot adapter as accessory.
Professional photographer Steve Thornton from Atlanta fixed a Lumedyne flash onto a SUN-BOUNCE MICRO-MINI with help of a FLASH-BRACKET and this technique allowed him to mix available light with artificial light to achieve perfection in his photographs.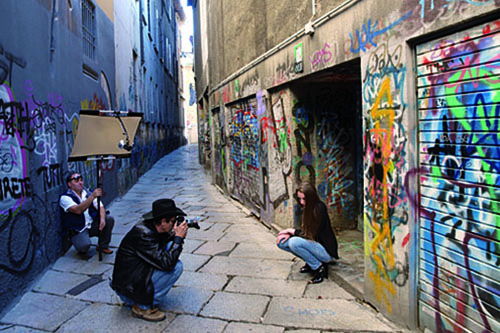 Click on Photos for Lightbox View
Professional photographer Adrian Jankowski on a photography location in Fürstenfeldbruck, near Munich, using two SUN-BOUNDER MINIs with ZEBRA material on tripods, equipped with two remotely controlled camera flash systems, each secured by a SUNBOUNCE Photography LIGHT ENHANCING FLASH-BRACKET system.
This cool arm connects all SUNBOUNCE reflectors with your mobile flash or LED/ Tungsten video light. It is shipped with a standard camera hot shoe made from fine aluminium. This hot shoe can be replaced with a Spigot-Adapter 5/8th (available option).
• For SUN-BOUNCER MICRO-MINI, MINI and PRO Reflectors
• Extendable ca. 30/45 cm (12"/24") (The clamp may need support when the extension is used depending on the weight of the flash.)
• Fits all tubes from 15-25 mm.
Designed for professional camera and mobile flash light systems and LED video lamps.
If your light source has a 5/8th female adapter, replace the standard hot shoe adapter of your FLASH-BRACKET with this SPIGOT-ADAPTER. Suitable for photography and videography.
• Replaces standard hot shoe attachment
• For photo and video
The MINI-CLAMP is used for SUNBOUNCE Photography LIGHT ENHANCING FLASH-BRACKET
• Strong-clamping, soft-padded jaws
• Smart construction for less weight
• Perfect for all SUNBOUNCE frames up to 25 mm
• Perfect for all other tubes from 15 mm to 25 mm
• Threaded for metric M6 and MC 5/16th
SUNBOUNCE FLASH-BRACKET METAL TOP-END FLASH HOLDER
German Engineered
Engineered with totally quality management (TQM) in Germany.
Durable Design
Manufactured and designed with the best products to ensure durability and ruggedness.
Handmade Perfection
All fabric reflector screens are made in Germany and handmade to perfection.
(Visited 824 times, 1 visits today)