Featured Enlightener Photographer
Read the interview of SUNBOUNCE Enlightener photographer Greg Gorman who's partial credits include national magazine features and covers in Esquire, GQ, Interview, Life, Vogue, Newsweek, Rolling Stone, Time, Vanity Fair and many other publications and he's photographed celebrities to include Elton John, Sophia Loren, Al Pacino, Michael Jackson and many others. Read more…
"I own the Micro, Mini, Pro and Sunswatter – essential lighting tools that come with me on every shoot "
SUNBOUNCE Photography and Video Lighting School
The SUNBOUNCE Photography and Video Lighting School offers professional tips to improve all your creative projects. Learn how light interacts with different reflector materials and diffusion screens. SUNBOUNCE brings you one of its most valuable resources that any still, cinema, and video photographer will appreciate, all neatly organized in one place. Go there now, learn the light effects that will improve your skills to elevate your creative talents. Stand above the crowd, not in the crowd.
Out of 86,400 seconds each day, photographers only need 1/125th of a second to show their story.
Photography Reflector Wind Tested
Wolfgang Peter Geller, the founder and inventor of the SUNBOUNCE photography lighting systems put his SUNBOUNCE PRO photography reflector to the test with the help of a local windsurfer and gusty winds on Hamburg Alster Lake back in 2006. This "put to the test" idea to check the strength of the fabric and seams was Geller's idea back in 2006. Read more…
World Record Speed Shooting With Bounce Wall 
Linda Köhler-Sandring achieved something with the BOUNCE-WALL that no one has been able to do before: Equipped with only the "Abosulte best cardboard in the world of photography" and the SUN-BOUNCER MINI BLACK HOLE as a neutral background, Linda photographed over 888 people outside in 7,092 seconds. Read more…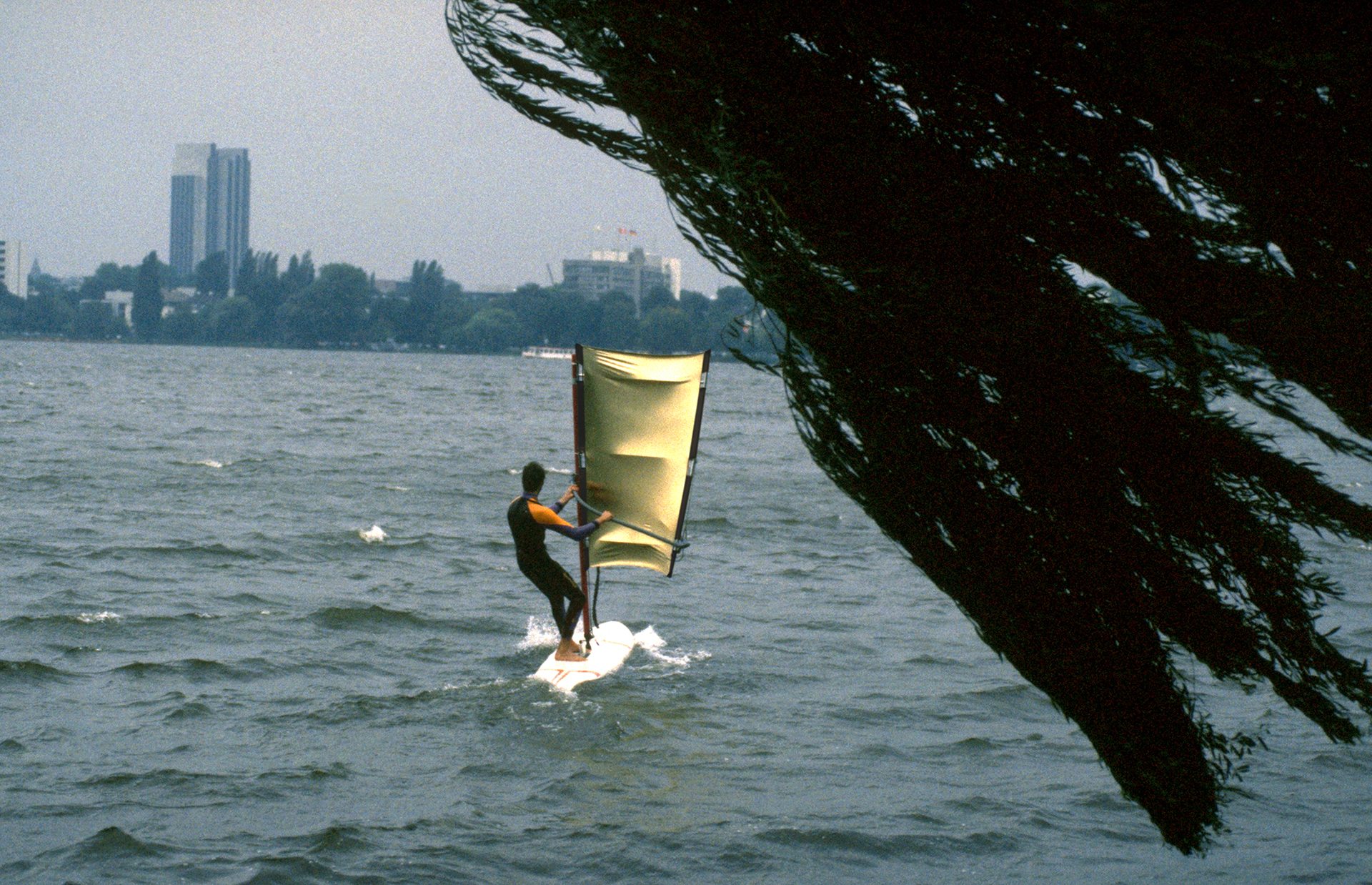 Professional Photography Tips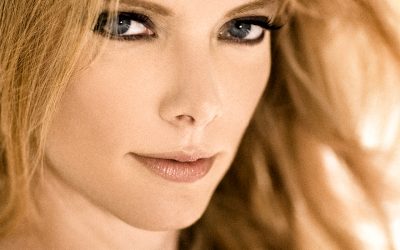 Sometimes a photo might need a little more oomph due to strong back-light or perhaps you simply want to brighten deep shadow areas on your subject and you can do this with fill-flash. While there are many fill-flash photography techniques, the two most common...
read more
Photography Reflector Tips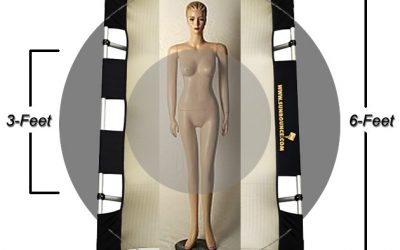 A Professional's Perspective. Whether I'm on a live video broadcast with social media, or at one of my photography workshops, someone usually asks, "How do you know which size reflector you're going to use?" I usually chuckle at first, as this question can have many...
read more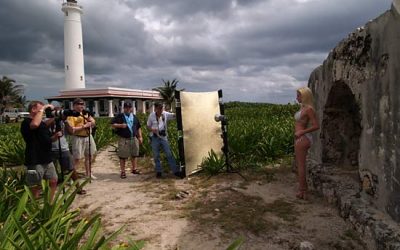 It's Not Like Buying Underwear. You've heard the old saying, no two things are created equal, well the same holds true for photography reflector fabric screens. Some are cheaply made and then you have the higher-quality controlled SUNBOUNCE fabric screens, which come...
read more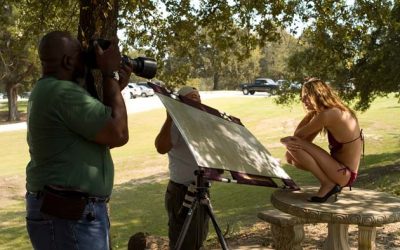 Without light we have nothing, with light we can make something out of nothing. There is one piece of equipment every photographer should have in his or her toolbox, a reflector—specifically, fabric type reflectors held by humans or light stands. Don't confuse these...
read more
Featured Photography Tools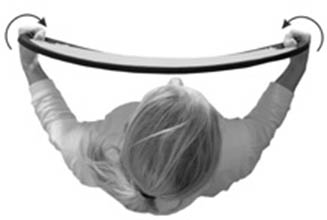 SUN-MOVER The SUN-MOVER is the first perfectly focusable flat light modifier that can create a harsh spotlight or a soft and wide-light, plus a regular light too. The most inexpensive photography lighting tool that can move sunlight that every photographer or...
read more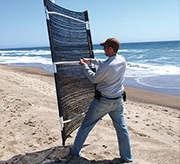 The Task In addition to backache, the Steadycam Operator is mostly affected by wind. His finely balanced, almost hovering camera is shaken by the tiniest wind turbulence. Up to now, beams and transparent plastic sheets were used by the assistants to protect the...
read more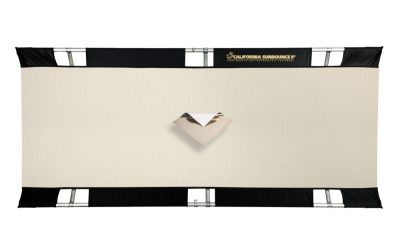 Photography Light Enhancing SUN-STRIP CLASSIC 3-D Reflectors SUN-STRIPS are a photographer's tool for creating "swaths or slivers of light" as needed on set, without contaminating other areas of the subject, scene or overall studio set. SUN-STRIPS provide accurate...
read more
Featured Photography Reflector Video
"I have two SUNBOUNCE reflectors and I love them. Amazing light!"
Lighting School Photography Knowledge
"There are three major benefits to the SUNBOUNCE system for me . . . 1. The stretch fabric creates a reliable lighting pattern and can throw light across a long distance if needed. 2. The quality of light they produce is amazing! 3. They're very durable and will last you a very long time. I own the MICRO-MINI (2×3) the Mini (3×4), the PRO 4×6 and the BIG SUN-SWATTER. Just bought the 3-D RAINDROP 4×6 fabric and love the punch it produces especially on cloudy days! Bottom line . . . It's more expensive but WELL worth the price!"
No Results Found
The page you requested could not be found. Try refining your search, or use the navigation above to locate the post.
Knowledge Base
We're building a knowledge base for proper use and techniques of photography gear for better photos.
Better Photos
Learn about photography gear from seasoned professional photographers who will show you how.
Right Equipment
It's true the photographer makes the photography, but the right equipment makes it easier to achieve.
Today's Techniques
It's about today's techniques with today's cameras, so we'll show you how they work for better photos.
Without Light There Is No Life
(Visited 17,800 times, 4 visits today)