SUN-CAGE, Mobile Location Photography Studio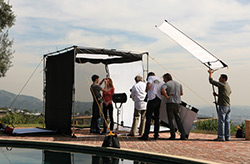 The special tool – designed by famous Greg Gorman and Wolfgang-Peter Geller – for photographers who never leave their studio without their CAGE-STUDIO. It is used in the jungle, in the Savannah and in Antarctica. There are photography projects where you want the same lighting environment all the time – perfectly controllable, just like in your own studio. The same is true for the home, outside on the lawn, at the beach or in a poorly lit town gymnasium. Small, handy, quick to assemble and dismantle, and can be taken on an airplane like golf equipment. This is the SUN-CAGE. Perfect photography light enhancing tools for the professional.
Please allow a few seconds for the SUN-CAGE PDF to load assembly instructions and pertinent information.
suncage

Click the arrows above to see SUN-CAGE assembly instructions and pertinent information.
Professional photographer Greg Gorman from Los Angeles and SUNBOUNCE director and designer Wolfgang-Peter Geller made it their goal to make the CAGE-STUDIO idea a reality. The result is a stable cube construction with an edge length of 8-feet, which meets all the requirements above and many more. A sophisticated screen combination is hung inside this space. In the standard version of the CAGE-STUDIO, when implemented:
The front of the CAGE-STUDIO is open so that the photographer or videographer can photograph into it – but, of course, this opening is used for direct, targeted light control.
The left or right side is either equipped with a 2/3rd diffuser material or shaded with a black cloth. During assembly, the photographer or videographer can photograph into it – but, of course, this opening is used for direct, targeted light control. The user can select whether the diffuser material should be on the left or on the right depending on the position of the sun.
The back is shaded with a black cloth. This cloth can be rolled up and reveals the background. Alternatively, very fine, net-like cloth (e.g. No Moiré) can be attached, which invisibly shade the background blurriness. A great effect. You've probably seen something similar to it from in a United States television interview situation.
The sky of the CAGE-STUDIO is equipped with a 2/3rd diffuser cloth and then a black cloth on top of the diffuser cloth. Thanks to the practical zippers, you can decide whether you want light or shadow from the top by removing or leaving in place the black cloth.
The poles weigh ca. 12.5 kg (27.5 lbs) and fit into the optional SUNBOUNCE Roller Bag (#750-20B).
The cloth weighs just over 4 kg (8.8 lbs)and optionally fits into the SUNBOUNCE Screen-Save (#750-20B) Large.

4 modular SUN-CAGE screens weigh about 4 kg (8.8 lbs)and optionally fits into the SUNBOUNCE Screen-Save (#750-20B) Large
The SUN-CAGE can be assembled by an assistant, who's assembled it at least once before, in less than 15 minutes and requires help from a second assistant for approximately 2-minutes.
BUTTERFLY-SCREENS without FRAMES
1 each Butterfly-Frame (round craft aluminium tubing 30/1,5 mm)
2 each Butterfly Black/Polyester Black
2 each Butterfly White Artificial Silk -2/3rd
1 each Scrim-Cover Polyester Black
5 each Light-Leak-Seal
3 each Bottom-Skirt-Seal
10 each Bungee-Snakes
100 each Ties
1 each Bag for Frame
1 each Bag for 5 Butterfly-Screens
Total size: 8′ x 8′ x 8′ / 245 x 245 x245 cm
The static, square SUN-SCRIMS.
The SUN-SCRIMS are closed, square, 2-dimensional screens selected for larger, mainly static objects or installations. They can be equipped with diffusing as well as reflecting screens. They've been used in the film industry for a long time but are relatively new to professional photography. They are great light enhancement as a photography tool.
SUNBOUNCE adapted the construction for most photographic applications and made them mobile. The names for the Sun-Scrims sizes were adopted from the film industry and are specified in "feet". One "foot" is 30.48 cm.
Total size: 245 cm x 245 cm / 8″ x 8″
Professional photographer Gregg Gorman explains the SUN-CAGE method of photography.
Strings (40 cm) to fix Scrims onto Frames
For Sky and Verticals – prevents light from coming through gaps and grommets.
Light-Leak-Seal for bottom parts of scrims towards floor – prevents light from coming through gaps and grommets.
Special Sun-Cage carry bags designed for scrim screens, frames and soft accessories
This is the Cage and Scrim 8′ x 8′ frame.
Total size: 8′ x 8′ x 8′ / 245 x 245 x245 cm
Security-Kit small for securing the Sun-Cage (4 ropes and 4 tent pegs). Only on request. Please send your request to: info(insert@symbol)sunbounce.com
Important to keep Sun-Cage in place when working outdoors – you might need more weight. Check for the wind!
Using a sandbag adapter, up to three sandbags can be firmly attached to a tripod, light stand, or C-stand. The sandbags no longer slide down the stand legs and all stands plus tripods remains in a stable position – even in a strong wind. Perfectly controlled light at all times! Did you know that today's saddle-shaped sandbags were developed in Hollywood 80 years ago? They were put onto the so-called C-Stand legs, which enabled the horizontal positioning of the sandbags, just like a saddle onto a horse's back. Today, modern tripod legs are normally sloped and nobody really knows where to put the sandbags, so people try and squeeze them onto the tripod legs' crossbars. Everybody has experienced this; more often than not you end up with injured knuckles.
Sand is not included.
Perhaps the most popular tripod bag? Thanks to large built-in and stable skate wheels, Roller-Bags can be simply pulled, or worn like a backpack if necessary, thanks to the broad support belt. They offer extensive capacity and ensure protection and organization at the site. Tripods, reflectors, Sun-Swatters and much more can all be comfortably accommodated. The easy-to-transport Roller-Bags are manufactured from high-quality materials. Four exterior pockets keep your valuable screens separated from metal elements inside!
Total size: 135cm / 53″
Color: Black
Which screen did I pack in this bag? No longer a problem figuring it out. Both the bottom and a broad strip of the sides of this stylish case are made of Polyglass. This lets you always see what's inside whether it's on its side or standing up. If you can't tell the screens apart by the color, there's a small holder for labels in the bottom. Everything in perfect order, in the studio and on the shelf. Large for Sun-Scrims up to 20′ x 20′ and then some.
Total size: 62 x 48 cm / 24″ x 19″
Color: Black
SUNBOUNCE Light Enhancing Photography Tools
SUNBOUNCE light enhancing photography tools are made in Germany with proven engineering including hand-sown fabric screens. The manufacturing process includes total quality management.
German Engineered
Engineered with totally quality management (TQM) in Germany.
Durable Design
Manufactured and designed with the best products to ensure durability and ruggedness.
Handmade Perfection
All fabric reflector screens are made in Germany and handmade to perfection.
(Visited 4,569 times, 1 visits today)